iLife '04
Review by NCMUG member Mary Norbury-Glaser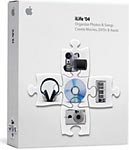 Over a year ago, Apple introduced iLife as a neat package of personal enhancement software that helped launch Apple's digital hub marketing strategy. It was such a success that, a year later, Apple released iLife '04 as a set of updates to iDVD, iMovie, iPhoto and iTunes and, with it, introduced a new music application, GarageBand.
iMovie is the baby brother in Apple's lineup of video editing software, behind Final Cut Express and Final Cut Express Pro and is intended to launch the beginner into home movie editing. This new version 4 of iMovie is a far more polished and responsive update than iMovie 3 (which caused many users to go back to iMovie 2) and includes some nifty additions: new and faster transitions and titles, the ability to add bookmarks (this feature is extremely useful, especially if you have a long movie), a sharing option (you can compress and automatically upload your movie to your .Mac homepage), timeline updates (changes can be made inside of timelines, not just at the start or end of each clip) and timeline snapping (when enabled, yellow guides appear to help line up sound and video clips). You can now enable audio track waveforms and iMovie boasts faster rendering speeds. There is also built in support for the iSight camera so you can capture video directly into iMovie. We still wish iMovie had better titling effects but there are a variety of 3rd party plugin products in the wild that allow you to add colored and animated titling to iMovie (GeeThree and Stupendous Software, to name two). Also, greater color correction control outside the Adjust Colors would be welcome.
iDVD sports 20 new themes (the biggest bonus), new animated backgrounds, buttons and Keynote-like transitions, auto play (a short that plays automatically when the DVD is inserted), an archive option (to allow you to archive your project and move it to a different Mac) and a new map view window that gives you a flow chart of your movie elements. This is much like a Finder's directory window; double clicking a thumbnail in Map view brings up that particular screen in your movie. This is a great convenience tool and makes for faster navigation.
You can also create loops (great for making a background video) and drag and drop items from other iLife '04 apps into iDVD (for example, drag a song or a playlist from iTunes or drop in a photo album from iPhoto). A nice feature for folks whose main machine is a Mac without a Superdrive: you can now take advantage of the Save As Archive command which will let you transfer the archive file to a separate Mac equipped with a Superdrive.
iPhoto's most notable improvement is speed. Everything is tremendously faster: scrolling, album switching between Organize and Edit, sorting, image resizing and deleting. Better organizational options and tools make it easier to find photos. Batch change is a new addition and allows you to assign or modify details on a group of photos at one time. You can also assign keywords, date ranges or ratings (similar to iTunes) to your photos. This is a great way to create a Smart Album using the ratings you've assigned to the photos.
There are new transitions and transition options as well as the ability to play an iTunes playlist behind a slideshow. Sepia and B&W photos can now be created with the click of the appropriate button. You can now also share your albums across your network with Rendezvous. However, the computers you share will need to have iPhoto04 and sharing is a tad bit buggy right now; sharing anything but a small library is too slow and can cause unexpected quits. Sharing libraries is an important concept for a family of multiple Macs and lots of photos to share so I hope this is corrected soon. It would also make iPhoto perfect if Apple were to improve multiple library creation and handling (hierarchical folder organization is missing) and if they were to add better color corrections tools.
iTunes and its integration with the iTunes Music Store has been the biggest news of the year. This iApp has enjoyed a steady series of enhancements before the final release of iLife '04, including the addition of a smart Power Search box in the iTunes window (think Safari's Google search box), Rendezvous music sharing, an Import Playlists option and AAC encoding. Still, two common wish list items for iTunes are the ability to order playlists in the source window any which way (putting your favorite Wagner collection of music at the top, for example) and adding album art sharing as part of music sharing.
The newest addition to the iApp series is GarageBand. It's designed for the beginner but even experienced musicians will find this an amazingly versatile and fun app (it's a terrific rehearsal tool). There are over 1000 included loops to experiment with. You can edit, trim and transpose real loops (from sampled real instruments) or MIDI. GarageBand comes with a built in keyboard screen and it works fine for just playing around but to really take advantage of GarageBand's recording tools, you'll need to get a USB MIDI keyboard and attach it to your Mac. Speaking of which, don't attempt to do any serious work with this application on anything but a very fast Mac. My experience with Powerbooks and iBooks were pretty dismal. The hard drives spin too slow; I had sputtering playbacks, multiple system error messages and freezes. Version 1 issues may cause some of these so let's hope Apple releases v.2 soon!
Given that iTunes is the only free, downloaded app in this bunch, the question remains whether or not iLife '04 is worth $49...well, duh. Yeah, it is! You get this suite pre-installed on new Macs but even at $49 you get a faster, better integrated set of applications AND the addition of GarageBand. For someone who has embraced the digital media technology and wants to move quickly and efficiently between the disciplines, iLife '04 is a bargain. Nowhere else can you get a suite of well designed, powerful applications for under $50.
Product: iLife '04
Company: Apple Computer
Price: $49